It's been a while.
If you'd like to read about what I've been up to lately, I'm now writing a blog. Much of it focuses on the international travel that I've undertaken over the past few years. I hope you'll find it interesting. (Updated February 4, 2011)
Sold!
I found a new home for my Rainbow in record time after posting an ad on Craigslist, at a price that was nearly giving it away. If you're looking for a Rainbow of your own to fix up, I highly suggest you talk to the people at Living Classrooms in Baltimore, who have several they would like to move. (Updated October 12, 2009)
My 1967 Rainbow 24
Early in spring 2005, another member of my sailing association more or less gave me a boat that was in dire need of repair. This page was my attempt to document the restoration process, although I quickly found it was more fun to sail the boat than write a webpage about it...
Even so, I may update it again at some point in the future. I would like to get some "finished product" pictures up, as soon as some get taken this summer.
Get the RSS feed:

---
Specs
There is very little information on the Rainbow class available online, and I have very little documentation for my boat, so the information below may not be entirely accurate.
Manufacturer: Tidewater Boats
Year: 1967
Overall length: 24' 2"
Beam: 6' 3"
Sail Area: 218 sq. ft.
Length at waterline: 17' 3"
Draft: 3' 6"
Ballast: Approx. 1,000 lbs.
Class History
Since there is so little coherent information on the Web, I thought I would put together a little history on this class. All of the information you see here has been derived from the websites listed in the Links section.
Jerry Wood, owner of the Annapolis Sailing School and Tidewater Boats, commissioned Sparkman and Stephens to design a boat stable enough that "eight drunks could sail it across the Chesapeake and not get into trouble." His plan was to use Rainbows as trainers at his sailing school, which today is still home to a large Rainbow fleet. At one point in the past, the Naval Academy also held a fleet, and there was an active racing class in the Bay area.
Tidewater manufactured the boats on the Eastern Shore for ten years, from 1963 to 1973. They were one of the first mass-manufactured fiberglass sailboats, and one of the first designs to use a fin keel. More than forty years later, the Rainbow is still a respected and well-known name around the Chesapeake Bay.
---
Tuesday, 24 May 2006
I'm actually back with an update. Might even be a few more over the summer, for those of you still reading. Read on for a few notes on why the boat isn't quite ready for any major voyages yet.
I started off the season last Saturday washing down the boat, and I took the cover off for a good wash at the laundromat. Turns out that most of the stitching has come apart from time in the sun, though the Sunbrella material that makes up the rest of it appears mostly fine.
My point? It's always good to know a local sailmaker, if at all possible, for times like this when you need his sewing machine. Will hopefully get that fixed later in the week.
Next up, I went to replace the outhaul line that snapped on me during one of my final outings last summer. When I went to cut off the rest of the line, the core of the rope poured out like dust in my hand. About half of the lines on my boat are of that vintage, and a few others are wearing thin, so it looks like I'm getting all new lines this year. (My prediction? Maybe new blocks as well, but I'm holding off on that). I've noticed that some of my lines are strangely dusty -- this appears to be what's left of the core coming out through the sheath.
In better news, I pretty much finished up painting the ceiling of the cabin. It turns out that shower caps are pretty useful for keeping away paint. While I was up in the front of the boat, I noticed some more hull items that need to be re-seated, like the forward pulpit. On the whole, however, it's remarkable how dry the boat is.
The Plexiglas cabin hatch cover that I cut last year finally fits now, too, after some sanding. Still needs to be cut up into segments and have some handholds put into it. Word of caution -- unsanded Plexiglas edges are really sharp. I ended up cutting the palms of my hands pretty badly last summer trying to pull it out during the first fitting.
That's pretty much all I feel like writing right now. Future entries might deal with some of the stuff I did last year, like my high-tech electrical system or my outboard motor.
Tuesday, 10 January 2006
You know, I've had a few people email me about this site over the past six months or so. I appreciate your support, and apologize for not responding to some of your queries. There's not likely to be too many more updates, but I would like to put this one out there for some closure. I'd also like to take this opportunity to promote wikisail.org, where I am hoping to create a sailing information community using the Wikipedia model.
Yes, the boat sails great! I still haven't hauled it out of the water, so the bottom may be entirely fouled, but there don't seem to be any major leaks or structural problems. Over the rest of the summer after I stopped posting, I did manage to paint about half of the cabin interior, rig up a boom vang, install a decent outboard, and rig up an electrical system. As far as I know, I'm fully legal now -- all lights, safety systems, etc. accounted for.
Unfortunately, I didn't get too many more pictures taken over the summer. Here's the few that I have:
Sunday, 12 June 2005
A lot has happened, and we took the boat out for its first sail today. Unfortunately, no pictures, as my camera wasn't working.
Real work (and maybe updates) will probably resume next weekend: necessary improvements still include a new boom vang and a repainted interior.
Sunday, 5 June 2005 -- "Almost There"
The Baltimore summer started in earnest today, as temperatures climbed above 90 F and we continued to labor away on the boat. The wood is done, and some of it is mounted; the 9.5 hp outboard is on the back and ready to go; the big step tomorrow will be setting the mast. Also, it's always important to remember to buy the right length bolts. No further comments, just a few pictures.
Saturday, 4 June 2005 -- "Setbacks and Advances"
First off, I've noticed that I'm now listed in all the major search engines and am getting a number of hits from them, so welcome to all you people I don't personally know. If you happen to have a trailer that could possibly fit this boat in the mid-Atlantic area, please let me know through the contact information on my main page. I'd be interested in buying it.
What happned to the week? Despite bad weather and crashing into a new job, I managed to get a third coat of golden Cetol on the wood by Friday. The erstwhile owner of the slip I've been occupying seems ready to move his O'Day there, so I will have to move to new digs soon. To that end, we pulled out the two outboards we own today, neither of which has been used in several years.
The 2 HP won't run for more than about ten seconds, but the 9.5 doesn't seem to need anything but new sparkplugs. This will be a ridiculous amount of auxiliary power for my boat, which it seems I will need sooner rather than later.
Despite the late discovery that the clear Cetol was actually not, followed by an even later trip to BoatUS, I got a coat of clear on before the sun was completely gone today. This, combined with a working motor, means that tomorrow will be the day to put the mast back up. Should be exciting and a busy day. This marks a huge step towards being ready to sail, although I also realized yesterday that the boat is completely missing a boom vang -- so I can't sail downwind yet anyway!
Tuesday, 31 May 2005
Not much to report on the boat front, except to say I was happy to find out that Cetol isn't supposed to be sanded between coats -- you just reapply it. This should save me a remarkable amount of time, and I hope to have all the wood (3 coats golden, 2 coats clear) ready by the end of the weekend. Since I'm starting my new job tomorrow, work will be slowing down on the boat. However, I'm confident that, if I wanted to, I could be sailing by Sunday. The boat would just be in really bad shape.
Monday, 30 May 2005
No pictures today. The starboard and port side winches went back on today, officially becoming the first restored parts back on the boat. A lot of cutting went on today as my dad and I worked on building a new sill for the cabin hatchway. Some blocks were replaced on the mast, rusty bolts cut off, etc.
You know, I don't give my dad enough credit here for what he's been doing. This restoration project is probably successful more due to his efforts than mine, even if his attempts to control the project and take all the hard work on himself can be frustrating at times.
Sunday, 29 May 2005
With nearly every piece of important hardware removed from the boat, today was the true beginning of the tedious stage of restoration. As mentioned before, the process of treating wood so that it will survive any length of time in a marine environment takes a while. If you ever find yourself in a position to be doing so, here's the process:
Sand the wood, removing any previous marks, imperfections, varnish, fingerprints, oil from human hands, etc. and making the board porous enough to absorb the new varnish.
Rub the wood down with acetone to remove dust from the sanding process and break down some of the board's natural oils.
Apply a coat of marine varnish. I recommend Cetol(tm) starting with a base of the golden stain and finishing with a few coats of clear. At $25/qt, it has to be good!
Wait 24 hours for the varnish to dry.
Repeat steps 1-4 four more times.
Also cleaned out the boat's winches. Compared to modern winches, their design is wonderfully simple, with only two small springs and four metal slugs possible to lose during disassembly. They're in remarkably good shape for their age, and with the gunk removed should just need a little grease to be in working shape again.
Saturday, 28 May 2005
First, some site news: there is now an RSS feed, if you're into using a reader like I am. This is my first attempt at authoring such a beast, so bear with me if it doesn't works. And, of course, the content is now Creative Commons-licensed (it was well-nigh time for me to practice what I preach in the software world).
Otherwise, it was another day at the boat. Various hardware was bought, including blocks to replace the ones currently at the top of the mast as visible in the first picture, and a handheld marine VHF radio. The mast will eventually rest on the oak board visible in the second picture -- this will get its first coat of Cetol finish tomorrow.
This will probably be the last day spent taking hardware off the boat. Most of the new wood has been measured and shaped, and I will begin the treatment process tomorrow. Since I will need to apply at least three coats of finish, this will take most of a week.
Friday, 27 May 2005
The best news today was that the boat's bilge was dry when I arrived, implying that there are no leaks in the hull. Given that I can continue to keep it dry, I should be able to paint over the rusted metal plate holding the keel in place in about a month to protect it from further damage.
In other news, we un-stepped the mast today and removed the last of the deck hardware that I am going to need to restore or replace right away. Moreover, special thanks are due to my dad who finished up removing peeling paint from the cabin interior and bleaching away mildew that was growing within. Thanks also to my friend James who came along to help take the mast down. The Dremel has also continued to be a real lifesaver to remove the bolts that have seized/been painted over/rusted into place.
As is visible in a few of the pictures, there was a 2' teak board sitting under the mast that had rotted away almost completely. Since that amount of teak would have probably cost over $30 and been completely unfinished, we have opted for a $10 plank of red oak from Home Depot. The two hardwoods share a lot of characteristics, but teak is known for good reaon as the "self-oiling" wood. This is the first time I've seen any wood other than teak used on a sailboat for a major piece of hardware; I'm curious to see how long it lasts once it has been treated with Cetol.
Thursday, 26 May 2005
Observation of the day: Dremel cutting tools and their generic equivalents (I recommend going to a Harbor Freight store for your cheap hardware needs if you have one nearby) are incredibly useful. I would probably still be out there with a hacksaw trying to cut off this one rusted eyebolt that was nearly flush with the top of the cabin otherwise. Speaking of rust, some advice to potential boat owners: NEVER use anything but stainless steel or brass/bronze/aluminum for your hardware. Galvanized WILL rust and disintegrate, as it has all over my boat from some previous owner's misguided retrofits.
On another note, it's amazing how continuous water exposure destroys wood. When I removed some of the bolts holding hardware at the back of the boat in place, the block of plywood providing backing crumbled away to dirt in my hand. It's also amazing that I can fit my entire body into the boat's back hatch area if I need to.
Today was also the first day that I got the interior really and completely dry, after bailing out the rain from the past few days. The real difficulty lies in the fact that the cockpit and seats have basically zero drainage, so any water I use to wash them must be bailed/sponged out by hand until I figure out a better solution. Given that it doesn't rain tonight, when I return tomorrow I should know if I have any real leaks or not.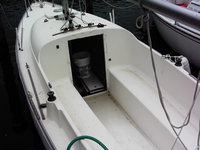 Wednesday, 25 May 2005
Another day pretty much devoted to boat work. The morning was spent with my dad purchasing various items we need: gas cans, life preservers, bungee cords, battery-powered lights for the interior, Marine-tex fiberglass repair, Seatol varnish for the wood, and so forth. Also went to a plastics store to have a piece of Plexiglas cut for the cabin hatch, but they asked $115(!) with at least a week of lead time. We ended up with one of their scraps for a lot less and will have to do the cutting ourselves. I also managed to locate a retailer in the area with teak in stock at a somewhat reasonable cost, as opposed to West Marine's "worth its weight in gold" pricing policy.
The afternoon was spent prepping the boat's wood for treatment and weatherproofing. A sailboat's wood can add a lot of aesthetic value to the design; perhaps not coincidentally, it is also one of the most labor-intensive parts to maintain. After years of exposure without the proper treatment, boat wood becomes heavily damaged by mildew, mold, and the sun itself. Step one in repairing this damage is sanding off the outside to remove any old varnish and damaged wood. Luckily, my random-orbital power sander meant this process would only take five hours instead of fifty. My hands are just a little numb from the vibration now.
Considering it's probably almost forty years old, the teak and oak that make up the wood trim have held up remarkably well. It's apparent that it was well-maintained and kept under cover for most of its existence. One of the handrails had dried and cracked enough that it split completely under the pressure of sanding. Luckily, it was nothing that couldn't be fixed with some wood glue. The next step before applying new varnish will be to wipe down the wood pieces tomorrow in order to clean out sawdust; after 12 hours or so of drying, they should be ready for the first coat.
Tomorrow, however, I will be headed to the boat to see how it dealt with the past two days of rain. I'll be doing a lot of bailing.
Tuesday, 24 May 2005
Work has progressed steadily. Sunday was again spent cleaning and removing most of the wood from the boat for treatment or replacement; the biggest thing to replace will be the piece of teak supporting the mast that has rotted away.
The tiller had also delaminated, so I reset it today using 2-ton epoxy and will be treating it with some sort of varnish in the coming days.
I also removed the rainbow on the sail. This was something I had been unsure about doing, and I regretted it almost immediately, as it left behind a red stain and a significant amount of adhesive backing that will be a real annoyance to fix. Whether leaving it on would have given people the wrong idea about my boat is a question probably not worth asking...
Saturday, 21 May 2005
Went down to PSA to get the title and start working. The boat was dirty, but afloat, and looks pretty much intact. It will take a lot of effort, and hopefully not to much money, to get into respectable sailing shape, though.
---
External Links
Wikisail article on the Rainbow 24
Rainbow that recently sold in Virginia
Pot of Gold, a Rainbow available for charter out of Solomons
A solar-electric powered boat built from a Rainbow hull
Newsletter issue mentioning the Rainbow
Article in the Washington Post about learning to sail at the Annapolis Sailing School